MLB, DraftKings partner up for fantasy baseball
April 07, 2015 3:00 AM
by Ramon Scott
Major League Baseball has already been in the legal gambling business for a couple of years, but just three days before the start of the regular season, MLB announced it was extending an exclusive partnership with daily fantasy operator DraftKings, making the second-largest fantasy sports operator the Official Daily Fantasy Game of Major League Baseball.
In a somewhat related deal just a day later, Walt Disney Co. said it would be investing $250 million in DraftKings, which in turn has said it will spend up to $500 million with the company on ESPN-related advertising.
The deals are just the latest in a series of moves in the daily fantasy sports sector that is quickly propelling the fun and exciting form of gambling into the masses, and almost puts the genre in a "no turning back" mode when it comes to the legality of sports betting in many states.
Whether Las Vegas sports books and casinos take interest in the fantasy game is mostly only a discussed point, however, as the two major players in the industry, including 80 percent market share rival FanDuel, are growing at such a large pace any entry from any established major gaming company would need to exhaust tremendous resources in order to make a splash.
More likely, any fantasy sports contests by casino operators may just end up being complimentary marketing pieces to engage the current client base.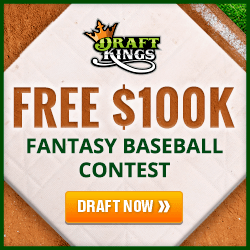 For example, just over a week ago, MGT Capital Investments, which operates third-tier site DraftDay, announced a joint-agreement with Seneca Gaming Corporation that would enable players at three properties to play fantasy sports games, likely on a "skin" of the MGTSports fantasy network site.
One major gaming company that said this week it would immediately ramp up its entry into the fantasy sports market is Canada-based Amaya Gaming, which already stunned the gaming industry last year when it purchased PokerStars for a jaw-dropping $4.9 billion.
Baseball is already considered by many as the best sport to play rotisserie-wise, both season-long and daily, given the enormous amount of statistical data that can be used in determining the best players for a week or day.
Given the current state of discussion regarding the potential legalization of gambling, daily fantasy baseball gives fans in a majority of states the ability to play cash tournaments every day with the possibility of winning shares of large prize pools and receiving their winnings in a reasonable amount of time.
While many long-time baseball gamblers and purists would never consider leaving the world of money lines, run lines and totals, the parallels in handicapping a card for both daily forms of betting are virtually similar.
Batter-versus-pitcher matchups, lefty-righty/home-away splits and bullpen usage are all the vernacular of both styles of wagering. Tracking lineup alerts and injuries are also important details that should already be factored in to serious baseball betting research on a daily basis.
In DFS play, however, you may chart your own positional player and pitcher efficiency ratings, or subscribe to a service that already provides a base-efficiency. Some sites allow for entering your own changes to the projection data, saving tons of time when analyzing the card on a day-by-day basis.
While there are plenty of DFS pros using software programs and computer-generated lineups, there are likely to be many, many more people, especially given the wild-fire-like growth of the daily fantasy industry, just looking to put down a couple of bucks for the night, making the lineups that "look good" on the phones and devices just to do a little legal sports gambling on a nightly basis.
An argument likely stands in the way about the eventual legality of daily fantasy sports federally, which is currently exempted by the Unlawful Internet Gambling Enforcement Act of 2006 that specifically excluded fantasy sports.
As it stands five states, including Arizona, do not permit the playing of daily fantasy sports games.
The UIGEA legislation was the demise of the Internet poker boom in the United States. Meanwhile, many well-known poker pros have already turned to serious DFS play.
In the meantime, it is looking like this form of wagering may be the way most of the country gambles on sports in the future.
And the daily rotisserie-style of baseball fantasy play, along with the one-day contests and the rewards of winning based on your own handicapping and research is just a perfect match for hardball fans – hardcore and casual, alike.
Ramon Scott is a Southern California-based sportswriter, covering the preps to the pros for over 25 years. Contact him at RamonScott@GamingToday.com.