Pair of Diamondbacks for MLB fantasy picks
April 07, 2015 3:04 AM
by Alan Berg
It's finally here!
Sunday night, the Major League Baseball season kicked off with the Cardinals vs. Cubs and St. Louis took the first game 3-0. Monday featured 14 games and I can hardly contain my excitement.
As a Seattle Mariners fan, I cringe as everyone picks them to win the division, with some experts going as far as to select them to win the World Series. Ugh, the jinx is already here and they haven't played a game yet. A division title would make me wanna do a backflip but I am all about progression, just get to the playoffs M's.
The first pitch also signifies the beginning of daily fantasy baseball season, so let's get right to it with some fantasy picks for today. FanDuel was the only one with salaries listed for Tuesday so we will use them; check your salaries and scoring carefully if you use DraftKings.
Captain Obvious
Carlos Gomez, MIL ($4,300): Gomez is coming off a stellar year with 23HR, 34 doubles, 95 runs scored and 34 stolen bases – that's "Big Tyme." He is the leadoff hitter for the Cerveceros, or Brewers as some of you refer to them. The perfect guy to pile up some fantasy points at home against the Rockies pitching staff. Projection: 3-5, 2 doubles, 1SB, 2 runs.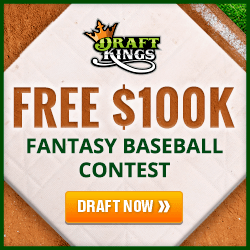 Diamonds in the Rough
A.J. Pollock, ARI, OF ($3,300): Come on, the guy has LOCK in his name! In all seriousness, Pollock was a solid contributor to the Diamondbacks last season; he is a lot like our captain this week, but with a smaller salary. He has been red hot in the spring and he should find success against either Giants pitcher Ryan Vogelsong or Jake Peavy, starter wasn't announced at press time. Projection: 2-4, double, walk, 2SB.
Chris Owings, ARI, SS ($2,700): We will stay with the D-Backs for our diamonds this week; Owings actually won the starting second base job for Arizona, but has shortstop eligibility, making him a nice bargain at a tough position. Owings is another speed guy who can turn singles into doubles with his base running. Projection: 2-4, 2 walks, SB.
Alan Berg has 10-plus years of experience at Las Vegas sports books and prior to moving to Las Vegas covered sports for the Bozeman Daily Chronicle. Follow him on Twitter: @vegasberserker Contact him at ABerg@GamingToday.com.