We agree with Emmy voters: Ted lasso, starring Jason Sudeikis, is one of the best sports comedies on TV (Photo by Danny Moloshok/Invision for the Television Academy/AP Images)
We've covered sports movies and documentaries; now it's time to explore the wide world of TV. Sports and TV go hand in hand, like Serena and a tennis racket or Michael Phelps and water. Today, we're listing our favorite sports shows in every realm. 
6 Best Sports Comedies
Ted Lasso
(Apple TV+)
Ted Lasso came out of nowhere, then racked up a slew of Emmy wins, skyrocketing the feel-good football club sitcom's popularity. 
The Ted Lasso story shouldn't work on paper: NBC promo joke-turned-comedy/drama lead wasn't on anyone's radar for the Jason Sudeikis character. But the fish-out-of-water story works wonders when you inject the Richmond FC gang with a whole lot of heart and a serious bent. That's why it's one of our best sports shows. 
Ostensibly a show about an English football club struggling to stay afloat and facing relegation, Richmond FC is collectively down on its luck. The team's owner, Rebecca Welton, hires Ted Lasso, an American football coach, mostly to spite her cheating ex-husband. But when Ted succeeds against all odds at forming a team of united players, the show opens up and embraces themes of friendship, mental health, personal growth, and change.
Ted Lasso isn't just a sports comedy (though it is laugh-out-loud funny). It's a heartwarming take on found family. 
GLOW
(Netflix)
One of the best sports shows on Netflix, GLOW revives and refreshes a cult classic from the 1980s featuring women's wrestling. This campy, nostalgic show is the perfect combination of drama and comedy. Over three seasons, the series follows wanna-be actress Ruth Wilder in '80s Los Angeles who ends up auditioning for a fledgling professional wrestling organization. Over the first season, Ruth and the other characters develop their personas and learn the basics of wrestling before taking it to the ring for showtime.
From the challenges of learning a new sport and securing financing for the organization to interpersonal drama and ongoing social issues, this show prominently displays the women wrestlers' grit. Despite ending after 30 episodes, this show has 12 Emmy wins and 108 nominations. It's a fan and critic favorite anyone can binge-watch on Netflix.
Eastbound & Down (HBO)
If you enjoy the raunchy outrageous humor from the minds of Danny McBride and friends, Eastbound & Down is the show for you.
McBride plays Kenny Powers, a former baseball player whose attitude and loss of fastball have forced him to return to his hometown and become a substitute gym teacher at the local high school. He spends most of his time plotting his return to "The Show" while also courting his high school sweetheart. Subsequent seasons feature Powers attempting to make his comeback with stops in Mexico and Myrtle Beach.
While it definitely plays out as an adult comedy (don't watch this with the kiddos), Eastbound & Down also features plenty of heart. Viewers learn to love Powers along his journey, even as he makes countless numbers of bad and ridiculous decisions.
The show consists of just 29 30-minute episodes over four seasons. While it probably lasted a season too long (many fans, like myself, believe it should have ended after season 3), it still delivers loads of laughs in each episode.
As an extra bonus, you'll understand some of the more popular Kenny Powers memes on social media after watching. Dolla, dolla bills, y'all!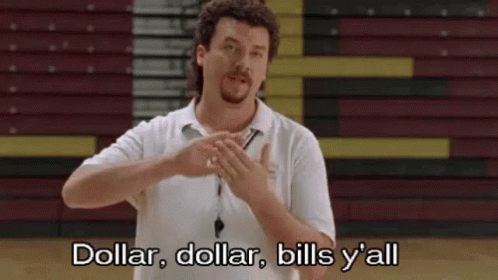 The League
(Hulu)
The League is fun for most because it's a hyperbolic exploration of the toils and troubles that plague any long-running fantasy football league. For me, The League gets extra points for its fairly accurate representation of midwestern life among a group of friends growing out of their 20s and into their 30s. 
I haven't seen The League in a hot minute, and I'd wager to guess that some of the humor hasn't aged well. But the parts that make the show memorable are some of the best in sports TV.
NFL players started catching onto the show's hype and guest starred in various episodes. Watching a rattled fantasy player confront a real-life football juggernaut for missing a crucial catch or fumbling on a game-changing play never gets old. 
Brockmire
(IFC)
Brockmire tells the story of disgraced baseball announcer Jim Brockmire. After catching his wife in the midst of her infidelity, Brockmire has a very public meltdown whilst broadcasting a Major League Baseball game and is promptly fired from his dream job. He is sent on a drunken bender around the world. 
The series begins 10 years later, after Brockmire has spent a decade wandering aimlessly, exploring exotic locations and the local drinks and drugs they have to offer. And while becoming an expert on peyote and doing the play-by-play for underground cock fighting matches might stimulate some, it's a hopeless existence for Brockmire without his one true love.
Baseball. NOT his ex-wife.
The series stars The Simpsons legend Hank Azaria as Brockmire, who spends the series working his way back to the Major Leagues after hitting whatever level is 200 feet below absolute rock bottom. Amanda Peet co-stars as the owner of the Morristown Frackers, the minor league baseball team that hires Brockmire in hopes of using his infamy to boost ticket sales.
A family program this is not. Be advised this hilarious show comes with a HARD R-Rating.
Blue Mountain State
(Amazon Prime)
If you are looking for turn-your-brain-off fun, you can't go wrong with Blue Mountain State. The story centers around Alex Moran, the backup quarterback for a fictional college football team, the BMS Mountain Goats.
Alex has no interest in actually playing football, though. No, he is more interested in enjoying the perks of being a college football player — all the stuff you tell your parents you never saw in college (wild parties, drugs, drinking, sex, etc.).  
The cast of characters in the show takes every stereotype you can imagine and magnifies them x100. Thad Castle is the meathead linebacker/team captain who parties hard and does whatever it takes to win. The head coach, Martin Daniels, does not care what shenanigans his players get into as long as they win games. Harmon Tedesco, the kicker, has done every drug known to man.
The list of personalities is endless, but they all have one thing in common— if you don't take them seriously, they are funny.
If you take your television too seriously, you'll hate this show. You'll look at it as glorifying drug use, binge drinking, sex, and how athletes are put on pedestals and are treated by a different set of rules. But if you can turn your brain off for 30 minutes, you will LOL more times than Thad Castle could count.
Best Sports Drama Series
Friday Night Lights
(Hulu)
Growing up in Baltimore in the 80s and 90s, I was not a football fan (Not sure why? Google Mayflower van + March 1984 + Colts).  When my husband asked me to watch Friday Night Lights with him when it first came out I was reluctant.  Sure I was a sports fan, but I had a bitter taste toward the pigskin.  
But that is the beauty of FNL. It's not JUST a football show. It's a show about life. Real life. Its mantra, "Clear Eyes, Full Hearts, Can't Lose," has come to embody life for so many, on and off the field.  And everyone wants a Coach Taylor in their life.
Nearly every episode revolves around the upcoming Friday night game of the fictional Dillon Panthers. But the well-developed storylines of the characters, some of whom don't play football, are what keep you coming back for more. And, unlike most shows that focus on high school kids, so therefore only younger viewers can relate, FNL makes you care about everyone. 
It's not too much of a spoiler to tell you that starting QB Jason Street is sidelined in the pilot when he becomes paralyzed in a freak play. Street sticks around for two seasons, and his grit to get some semblance of his life back moves you as much as the suspense for how the games play out. His replacement, Matt Saracen, has more on his plate as a high school sophomore than most adults. The show ran during the Iraq War, and Matt personifies all the sacrifices of those left behind.
The show was never a ratings winner, and fans had to lobby hard to keep it around. NBC ultimately worked out a deal with DirectTV, so the last two seasons were co-financed. Now you can find it on Peacock. 
The co-financing deal was a win, because the show got even better.  As much as I cared for the first group of kids, I loved the ones who came later. Michael B. Jordan, before he was Creed, was Vince Howard, a scrappy kid who you root for immediately. From Day One, I wanted more of him, and when the show ended, I was as sad to see him go as I was Coach Taylor.
FNL was five seasons long.  Enough time for Julie, Coach Taylor's daughter, to go from nice, to deeply annoying, to a grownup, before your eyes.   
In those five seasons, the show tackles abortion, alcoholism, adultery, segregation, depression, murder, and even copper theft. These are the things I remember 10 years after it ended. These stories have remained with me and will with you too. 
The White Shadow
(Xfinity Stream)
Everything that Friday Night Lights had in the early 2000s, The White Shadow had a quarter of a century earlier.
"Outsider" coach who comes to town trying to change young people's lives only to experience cultural resistance? Check.

Teenagers dealing with drug and alcohol addiction? Check

Complicated interpersonal relationships of parents, kids, teachers, students, etc.? Check.

Violence in schools. Check.

Gender identity and gay rights issues? Check and check.
The influencer may have even been a superior show to the influenced. The White Shadow (1978-1981) never became a ratings winner, but the complex ensemble-driven show lasted 54 episodes and laid the groundwork for later dramas of the 1980s that did, like St. Elsewhere and Hill Street Blues.
The show starred Ken Reeves as the centerpiece of the talented cast, as a former NBA player who takes a head coaching job at Carver High School in South Central Los Angeles. There he encounters a patchwork of kids: a superstar with a troubled home life; a Latino who is bullied because of his heritage; a former gang member; and an outed gay teen. 
There was very little TWS wouldn't take on as subject matter: child abuse, sexual orientation, and gender identity, gang violence, sexually transmitted diseases (years before AIDS was discussed), prostitution, and even the mentally disabled. Of course, seeing as the protagonist was a white man in a predominantly inner-city Black/Latino high school, racial tension hung over the show like a backboard over the court. 
You may have to search to find TWS: a few years ago 20th Century Fox Home Entertainment released it on DVD, but only the first two seasons. Once a long time ago, ESPN Classic aired reruns. There are long clips of the show on YouTube. For those of you who were influenced by Friday Night Lights, consider looking at the OG, it's worth a step back in time.
Best Sports Shows: Miscellaneous
NFL Live (ESPN)
The same five people sitting around talking about one sport every single day may sound like a setup for boredom, but not with the all-star cast ESPN put together for NFL Live. Do-it-all ESPN personality Laura Rutledge hosts the daily show joined by a beyond entertaining group of analysts in Dan Orlovsky, Mina Kimes, Marcus Spears, and Ryan Clark. This crew knows how to deliver the latest news and provide the highest quality in-depth analysis from across the NFL.
The cast has the ability to break down the game into the simplest explanations, drawing comparisons to everyday life for fans of all levels. Football knowledge aside, what stands out most about this group is their friendship. Throughout the show, they laugh together, poke fun at each other, and are genuinely having a blast while doing their jobs. In turn, as a viewer, you end up having just as much fun and really feel a part of the broadcast.
NFL Live airs daily on ESPN from 4-5 p.m. ET with episodes on ESPN/ESPN+ app. 
30 for 30
(ESPN)
This is the best documentary series in the world of sports.
What began as a celebration of ESPN's 30th anniversary in 2009, this anthology series originally featured 30 independent films from 30 famous filmmakers to cover the 30 biggest stories in the first 30 years of ESPN. However, 30 for 30 has since expanded to include more than 100 independent films, a mini-series, and a podcast that focuses on the most impactful moments in sports. Stories that range from the truly unforgettable to lesser-known gems.
For me, the most impressive 30 for 30 episodes are the ones that focus on a single moment in time and how it left a lasting impact on the collective consciousness. Catching Hell tells the story of Steve Bartman, the Chicago Cubs fan who interfered with a foul ball and helped thwart the team's World Series run in 2003. And then there's The Tuck Rule, a long look at the infamous Tom Brady fumble/incomplete pass during the 2002 AFC Divisional Playoff Game between the New England Patriots and Oakland Raiders. Single moments that derailed a Cinderella story in baseball, and launched the biggest dynasty in the history of the NFL.
What's more, there are a LOT of films in this series about lesser-known moments. Slaying The Badger is a story about the 1986 Tour de France that left teammates fighting each other for the Yellow Jersey. 26 Years: The Dewey Bozella Story is about a man wrongfully convicted who spent 26 years in prison before finding salvation in the boxing ring. 
The series is available to stream on Disney+ and continues to release new episodes every few months. I cannot recommend it enough.